Freelance illustrator, working in France and internationally
As an illustrator, I sometimes get questions from companies, agencies and students alike: Is being an illustrator a real job? Can you make a living out of it? Who calls upon you? For what purpose? 
I will try to reply to all of those questions on this page. If you have more questions, you can reach out to me in the contact section.
Who calls upon my services ?
I work mainly for advertising, communication and event agencies, large companies but also SMEs. I also sometimes create illustrations for the press and publishing. However, I work quite rarely with private individuals due to price constraints and transfer of rights.
I also work for general councils, tourist offices…
As a freelance illustrator I work for clients from all over France (Paris, Marseille, Lyon, Bordeaux, Toulouse, Nantes, Lille, Strasbourg, Nantes…) but also for clients from abroad (such as London, New York, Berlin)
• How to work with me ?
If you like my graphic style and if it matches the image you want to give to your advertising or communication campaign, just send me an email at contact@toyzmachin.com or call me on +33 6 70 38 31 46. If you prefer to use Skype, my name is "toyzmachin". Ideally, you should prepare your specifications and the deadline for your project beforehand and tell me what kind of media you want me to work on. These details are important so that I can send you an adapted quote and meet your expectations.
What's my working method ?
Once the order form is signed, I start by creating one or more sketches that I submit to you. After validation, I move on to the colouring stage. At this stage, I ask you for feedback and we have the opportunity to exchange by email or phone to make sure that the project is progressing in the right direction and to be sure that your request is perfectly met.
Once you are satisfied with the work done, the file is usually delivered by email (if the file is not too large) or via a secure server. You can see how I work as an illustrator with the whole process.
Sketch / rough > colouring of the illustration :

What documents do I need to provide you with before starting our project ? 
As a freelance graphic designer and illustrator, I am affiliated with La Maison Des Artistes. I must therefore provide you with an MDA certificate for the current year. Please make sure you keep this document, which may be required in the event of an inspection. I will also provide you with a bank statement and finally an invoice featuring my MDA number, SIRET, VAT and mailing address.
Why call upon the services of a freelance illustrator?
It is important to collaborate with an illustrator who will be able to identify your needs and propose visuals that will appeal to the clientele you are trying to reach, in a quick and effective way. The artist you choose should be able to create mascot characters, stage them and create typographic compositions, in order to give a real identity to your communication campaign.
You want your customers to remember your brand, and the best way to do this is by making the documents you produce more attractive. Using a professional illustrator is a great investment in this.
Assignment and transfer of copyright
Illustration, as well as any artistic works, is subject to the transfer of rights which protects both the illustrator and his client. You have to make sure that your quotation mentions the transfer of rights, which is based on 3 points: the duration of the transfer,  the place where the illustration is used and on the medium chosen. If you wish, for one reason or another, to increase the duration of an assignment of rights then the price will increase and vice versa. There is no such thing as an unlimited duration assignment of rights and any contract mentioning the contrary will be null and void. The designer / illustrator remains the owner of the illustrations, this can be considered as rental for a specific use. As the French law provides, the artist author has a moral and cultural right on his creations. If you want a further explanation of this, please contact me or read this : copyright
My work as a graphic designer and illustrator
I define myself as a freelance graphic illustrator, my job is to create images, we call it visual communication. I am brought to work on different projects according to the demand: drawing of mascot, illustration of scenic characters, creation of logo and graphic charter, POS, children's illustration. The mediums are also very varied and go from poster, packaging, web, print, digital for internal communication of company or general public for the advertising media, poster metro 4 / 3, bus shelter

Do I work with trainees ?
Unfortunately I don't, because like many freelancers, I work primarily from home and as I always work on very specific projects I don't really see what I could ask from an intern… unless they want to watch the process in action. 
What I recommend to students looking for an internship is to ask advertising agencies, communication studios or event companies… If you approach freelancers you risk wasting your time and being refused for the above reasons.
What software and materials do I use?
For vector graphic illustration I use Adobe Illustrator and for raster illustration I use photoshop. My material : an iMac, a Wacom cintiq 22H graphic tablet, a scanner, an A3 printer, paper, pencil and an eraser.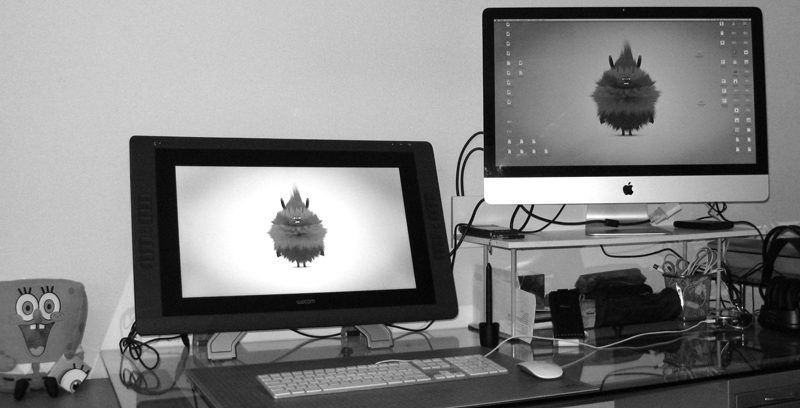 What's a typical day for me ?
I enjoy my job as each day is quite different from the previous, but I still have my routine :in the morning the first thing I do is turn on my computer and read my emails to check if I have received any new information requests and to read the briefs/instructions I was sent by my clients.  I usually like to call them if I need any more details. Then I switch to doing the quotes and send them by email. I also like to keep myself up to date and I spend time scrolling the internet, Facebook, Linkedin, reading new blogs… I usually work until around 7pm and have a lunch break from 1pm to 2pm (adapting to the agencies and companies's schedule). As a general rule after work I go out to get some fresh air, I walk, I do sports or go visit my favorite bookstores…
Non-exhaustive list of my clients


































Do not hesitate to contact me by email or phone if you have any questions.