Questions and answers about the profession of illustrator
I receive a lot of questions by email, Facebook and Instagram, so I selected those that came up the most, hoping that I will be able to provide answers to as many people who follow my work as possible. Of course you are free to contact me if you have any more questions and I will keep updating this Q&A on my job as a graphic designer and illustrator. 
What made you want to be an illustrator?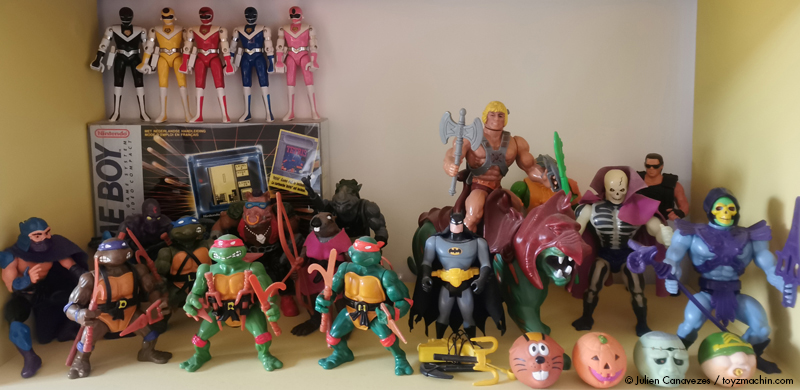 I was a child in the 80's / 90's and grew up watching children's programs like "ça cartoon" every sunday evening. I was also a huge fan of the Club Dorothée which was truly groundbreaking at that time, I also watched Olive et Tom, Ken le survivant, le collège fou fou fou… I used to play with les Tortues Ninja, Musclor, Bioman, the GI Joes (those toys I kept) and to collect the Crados stickers (I still have the complete sticker book). I also spent a lot of time playing video games on my game boy, Sega Master System and Super Nintendo…Finally and most of all I have always loved to draw, all the time and everywhere…
What is your instruction?
After highschool I knew that what I wanted to do was draw ! I did my preparatory year at the LISAA (Institut supérieur des arts appliqués)  in Paris and then I studied à Intuit/Lab for 3 years, still in Paris. I did some internships as well, notably for Ora-Ito.
What is your work material?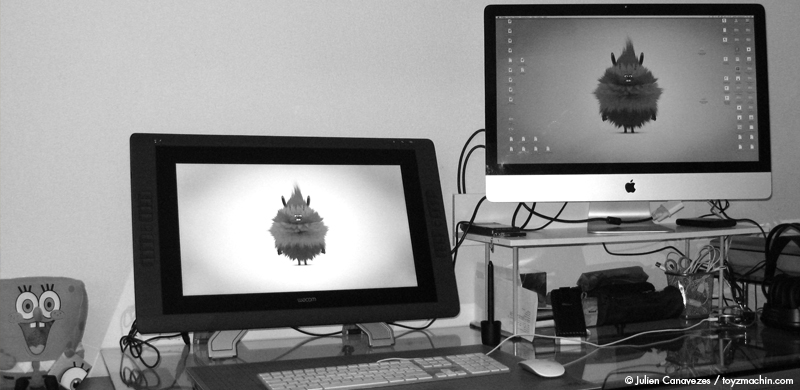 I work primarily on digital supports. I have been using a Wacom 22 HD graphic tablet along with an iMac 27", a scanner for when I sketch on paper and a Canon A3 printer. As for the software, I use the Adobe Suite : Photoshop Illustrator and Indesign.
How long have you been practicing your profession?
Since 2006 I have worked as an illustrator so I am now considered as a senior illustrator. I personally do not like that word very much so I'd rather say that I am an experienced illustrator.
What's your status?
I have been registered at the Maison des Artiste which grants me an independent status. 
What are your references?
I am inspired by various things but I must say I really admire the work of Tim Burton, Dave McKean, Nicolas De Crecy, Jean-Pierre Jeunet and Albert Dontel. I try to stay curious and to broaden my inspiration sources to other fields than illustration.
Qu'est-ce que tu aimes le plus dans ton métier ?
The creative part is what excites me the most. I like the process of starting from a blank page and watching the project take shape gradually. However before throwing myself head-first onto my drawings or any visual projects, I like to take time to do some initial sketches and write down key words first. Feel free to read my article about my working method.
What do you like most about your job?
What I like least about my job is that feeling I get sometimes when I spend time listening to a potential client's instructions and provide him with an estimate and they don't take the time to reply (by email or by phone). I mean honestly…it would only take 2 seconds. This is a complete lack of respect to me.
How do you calculate your rates?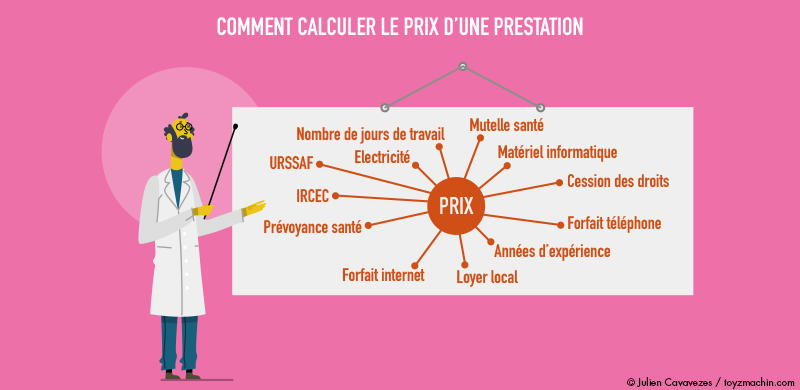 First step is I identify carefully what my client's needs are, the graphic style they like and how they're going to use my illustrations. Then I calculate the rate considering : the reading and understanding of the brief + the time required for the creation (number of days) + the email exchanges +  the use medium (web, print, poster, media). I have to keep in mind all the charges that I pay: URSSAF, IRCEC, internet, my telephone subscription, the computer equipment, the electricity, the premises' rent, my health insurance… If you are an illustrator starting in the industry I would advise you to set your minimum rate up to 350 € per day, at the very least. Below this rate, you would risk being in a precarious situation and not be able to make a living out of your activity. Rates are often a sensitive topic because they are not regulated. You will find anything and everything on the internet. However I believe clients aren't fooled, they know that the cheaper the rate is the less quality the end result, and this will not benefit their communication campaign.
Sometimes my clients have a predefined budget in mind and ask me if I can work around that budget. I would advise any potential client to really take a look at a creative's illustration portfolio beforehand, which is always a good indicator. An interesting portfolio must feature quality illustrations, well diversified projects and also references.
Do you ever work for free?
I do get contacted sometimes to do non paid competitions and I'm often asked to "play the game" because other illustrators do. Personally, I am not interested in "playing" but rather making a living. I believe that all work deserves to be rewarded and that the Illustrators who approve these conditions only harm themselves and participate in affecting the image of our work.
Do you make a living from your job?
When I started in the industry I must admit that it was not always easy. I spent a lot of time looking for new clients, with varied rates of success. Actually It took me three years to make a living out of my work. The advantage of my training is that I can carry out a project from A to Z. Illustration, layout, artistic direction, the consulting part are the base of my job. I believe wearing several hats is what makes me stand out. However, as any freelance illustrator I happen to have some quiet periods from time to time, which is when the strain goes up and I have to keep my head on straight to make the best use of my time.
Do you have an illustrator agent?
I do have an agent who is in the UK, however I consider him more like "the icing on the cake". Does he bring me lots of projects or enough income all by himself ? Unfortunately not. Illustration agents who actually bring enough income to their illustrators are rare. An independent agent has several creatives in his team and some of them are brought forward depending on the latest trend, cronyism etc…Anyway I would not advise wasting too much energy finding agents because you might get disappointed with the outcome. However if it is really important to you then I invite you to read my article about illustration agents. In reality what will make a difference is the network you will build because if one day money gets tights you know you will be able to count on your contacts.
What do you think of social networks to promote your work?
I think social networks are only one means of communication among many. By the way you can follow me on my instagram or on my facebook. I try taking a step back with this type of media and even though I do feed it with more content I am not constantly looking to gain more and more followers. If I get some it's good but if I don't get any it's still fine. I know some illustrators create custom content for their account but I personally think it is a waste of time and energy.
What are the projects you dream of working on?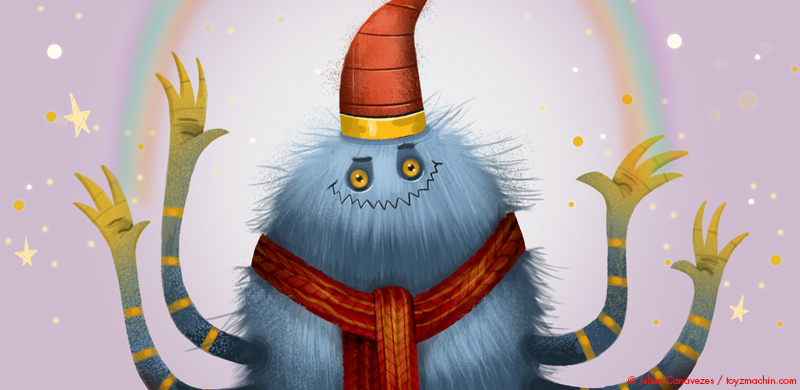 I would love to create illustrations for decorative objects. I'd like my little monster characters to be brought to life in the form of toys or stuffed teddies. I create little characters as a hobby on the side of my more "corporate" missions. I see it as recreation time.
What project are you most proud of?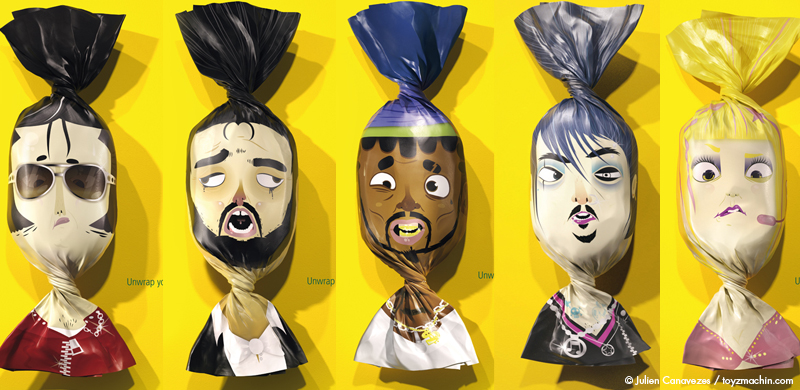 I am rather proud of my overall projects but I really enjoyed working on the green and sustainable city which was a very enriching project that helped me understand the challenges of recycling. Another memorable project was the Ricola advertisement campaign. This was an offset project for which I had a lot of freedom.
What's your worst experience/memory since you're an independant ?
I remember a client who would only communicate with me by text messages and sometimes email. There was no way to communicate in person, even though he was responsive when texting. It was kind of weird and not very cool for me. I didn't enjoy working with him as communication is the base of our job : talking and exchanging ideas is essential! In short this was a weird experience that I'd put in the " bad memory" category.
Do you prefer working in a coworking structure or from home?
I need a calm environment for when I work so without any hesitation : from home. I have a dedicated desk at home, I find it difficult to focus when there's a busy and noisy atmosphere.
Quel projet refuses-tu de faire ?
Projects I would have an ethical issue with. I have never had to deal with such projects for now so I can't give you an example.
Do you work for the international market?
Yes I do, even if my english isn't the best. This is the reason why I like exchanging by email because it allows me to use the help of a translator whenever I don't understand a word or an expression. I have worked with communication agencies based in London, Berlin and New York.
Please leave a comment if you liked this article or if you have any questions 🙂