What hardware and software for illustration and graphic design?
When you want to start in illustration and graphic design there are a lot of things to think about and to do… Registering at the house of artists, making a website, making a book in PDF… but you also have to invest to have a powerful computer equipment, which lasts in time and to have the right software.
For your information, you are not obliged to have all the equipment that I will list. Another important point, it is not the hardware that will help you to draw better, it is important to practice regularly to have a professional level.
This post is not sponsored, I present you here the list of the material I work with and the important softwares for me.
The equipment of the perfect freelance illustrator
Invest in robust and fast equipment. I chose to work on an Imac 27 inches. The screen is large and pleasant, it allows me to work on very large format and especially, I can boost it in terms of RAM. So I have added a lot of RAM bars so that it never lags behind. This gain in performance, allows me to work on several softwares at the same time as well as on very heavy illustrations. The IMac is the most important item in terms of expenses but it is essential to do a work worthy of the name. I could have chosen to work on a PC but having had a training on Mac, I preferred to continue on Apple. So it is not excluded to work on Windows however it is an old tradition to work on Apple when you are a graphic designer illustrator.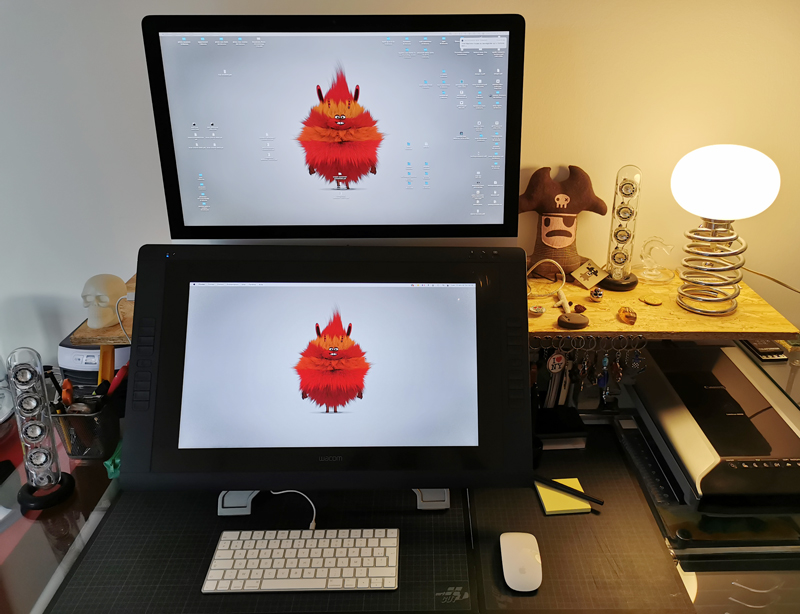 Sketching and digital coloring
The second important device is the graphics tablet. There are a ton of choices and it's often hard to know which one to choose. Wacom, Huion, Xpen… in short it's a jungle. At the beginning of my activity, I worked for a long time with a classic tablet Wacom intuos pro. At the beginning I was satisfied, but as time went by I felt frustrated not to have this cessation to draw "really". So eventually I turned to a Wacom cintiq 22 HD.
I've had it for several years now, and I chose a large screen because I don't want to feel limited and comfortable in my work space. It's an important investment but it pays off quickly because I feel I work better and faster. The only drawback is the ergonomics between the keyboard and the tablet, I also need a big desk to fit the Wacom and the Imac.
Draw where I want
I also like to be able to work in a mobile way, so I fell in love with the IPad pro 12 inches M1. I waited a long time before making this purchase. When I saw the versatility of the iPad I jumped on it. It is with this one that I write this article. I don't hide you that I broke my piggy bank because the iPad requires a lot of accessories: the Apple Pencil, for the keyboard I chose the combo touch from Logitech and finally to have a real drawing sensation I bought Paperlike screen protectors. You will have understood that all this put end to end the bill is salty.
Positive points of the IPad: its mobility, the applications,
Negative points: the battery, its still too hybrid side.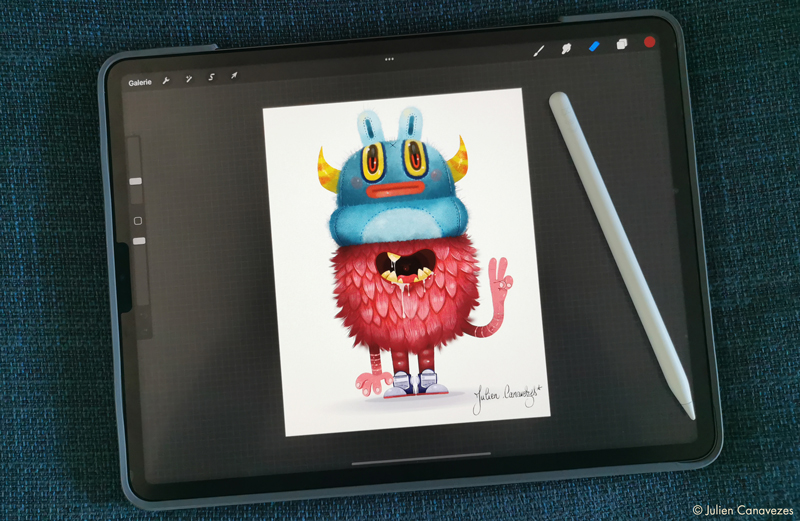 And the rest…
For everything else, I have a Canon A4 scanner and a Canon A3 printer (ix 5000) to be able to print on large formats.
I don't work much on paper because I work a lot for communication and advertising. So I need to make quick and easy retouching without having to rework an entire illustration.
Illustration and graphic design software?
It is impossible not to turn to photoshop, illustrator or indesign when doing graphic design and illustration. However, with the iPad, some "new" software have appeared. I think in particular of Procreat which is THE drawing software. But also Infinity designer or Infinity photo (available on computer and ipad) which are in my opinion serious competitors of the Adobe suite. To have tried them I can tell you that they are very good alternatives especially since once the software is purchased, it belongs to you, there is no subscription system.
Conclusion
Whether you are an illustrator or a graphic designer, what is important is to be comfortable on your workstation, with the right hardware and software. You will have understood that this is only about the hardware I use, however, if you prefer to work on paper with a pencil, it's your choice. There are no rules for creation.
If you have any questions don't hesitate to contact me or leave me a message in comment 😉