Accueil » Illustration » Corporate illustration for companies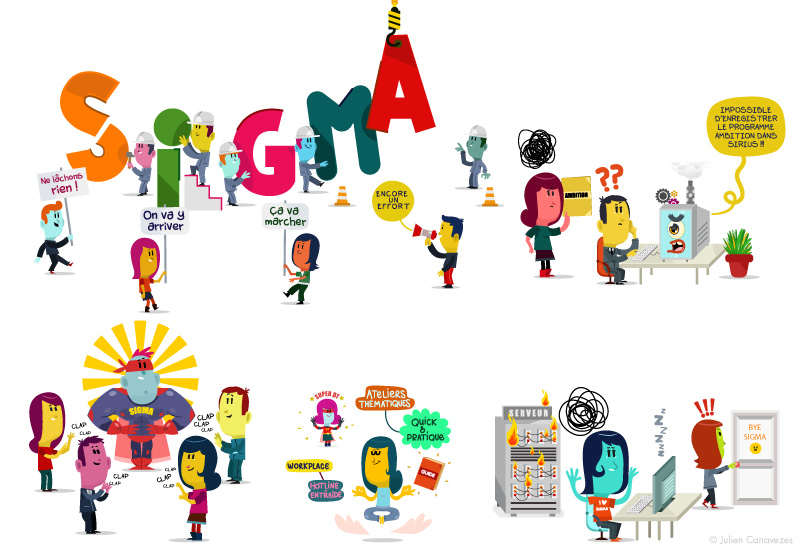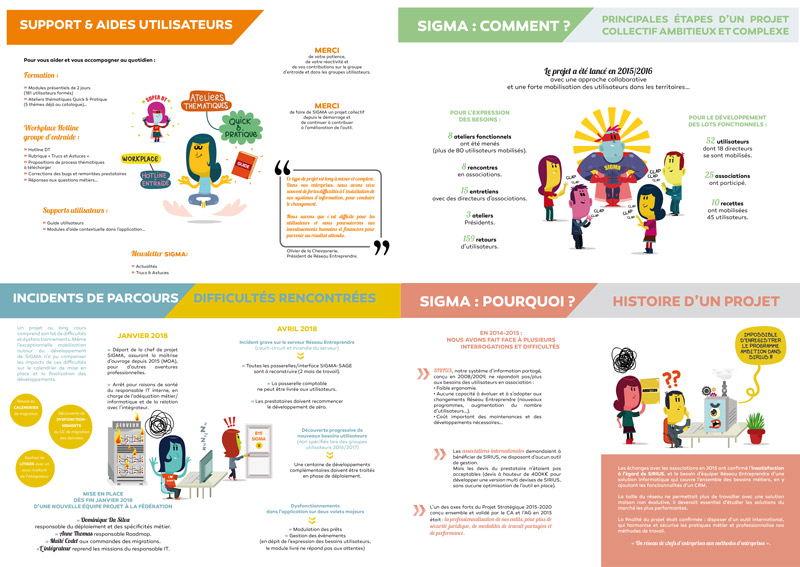 Illustrated sketches for entreprises 
The 'Réseau Entreprendre' commissioned me to help them create a positive, playful communication about important changes inside the company. Their information system did not meet the users' needs anymore so they launched a new state-of-the-art system. This was a tedious and complex job since they had to fix and refine certain issues related to the use of that system. In fact, while some users were happy about it, others were a little less so because they encountered bugs and other system problems.
I was requested to create corporate illustrations that would be fun and educational on the following themes:
The story behind the project

The main steps of an ambitious and collaborative project

The antiquated system and issues that they had to deal with

The current and future measures that would prevent them from happening again

The support service and user assistance
Those illustrations were used on printed mediums such as brochures and flyers but also on the web, in the Entreprendre network's website and on social media like Facebook and Twitter.
Crisis situation and communication
If a company encounters technical difficulties like bugs or software issues this will inevitably have an impact on its users/customers's satisfaction. Dealing with unhappy customers can be challenging. In my opinion though it is the perfect occasion for a company to take the bull by the horns and dare to communicate. It is said that a picture is worth a thousand words, and it's important to find a way to convey an effective and clear message. 
If you are interested in working with me, I will make sure your communication campaign will be built  around clear and appealing messages. Please take a look at my illustration book and feel free to get in touch via email or by phone.
---
Client :
Réseau entreprendre.
Communication
Illustration