Accueil » Communication » Green and sustainable city and sport and leisure city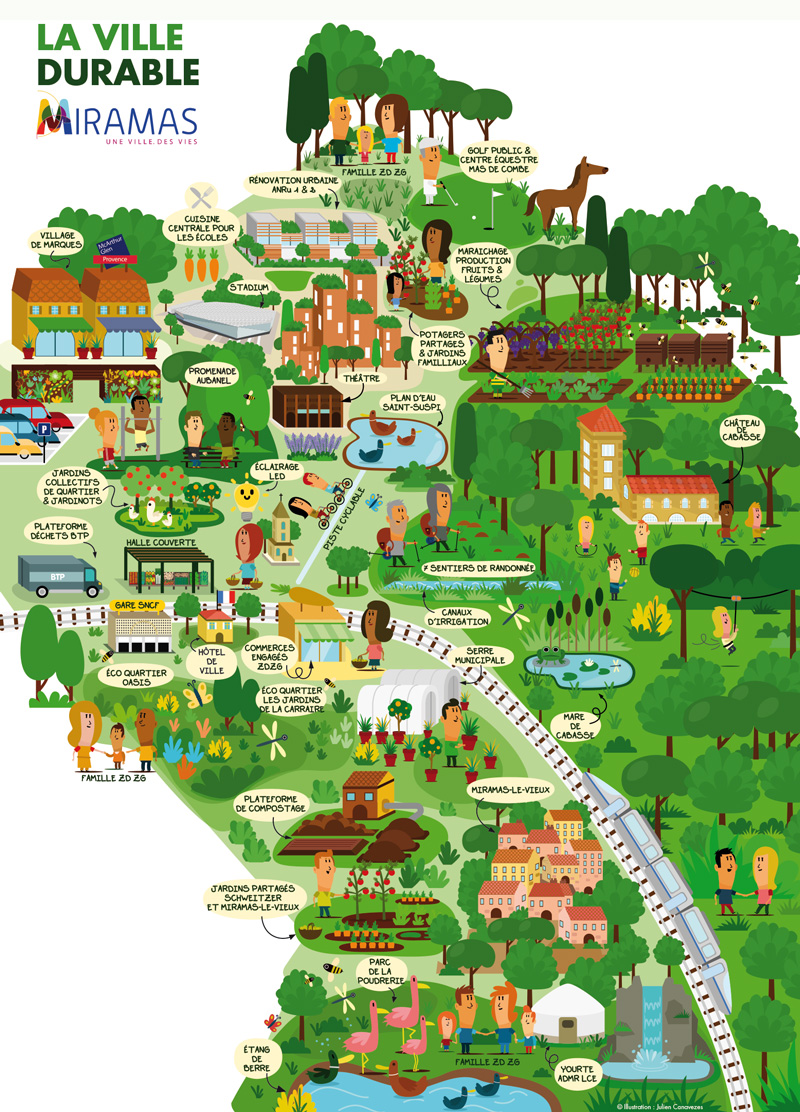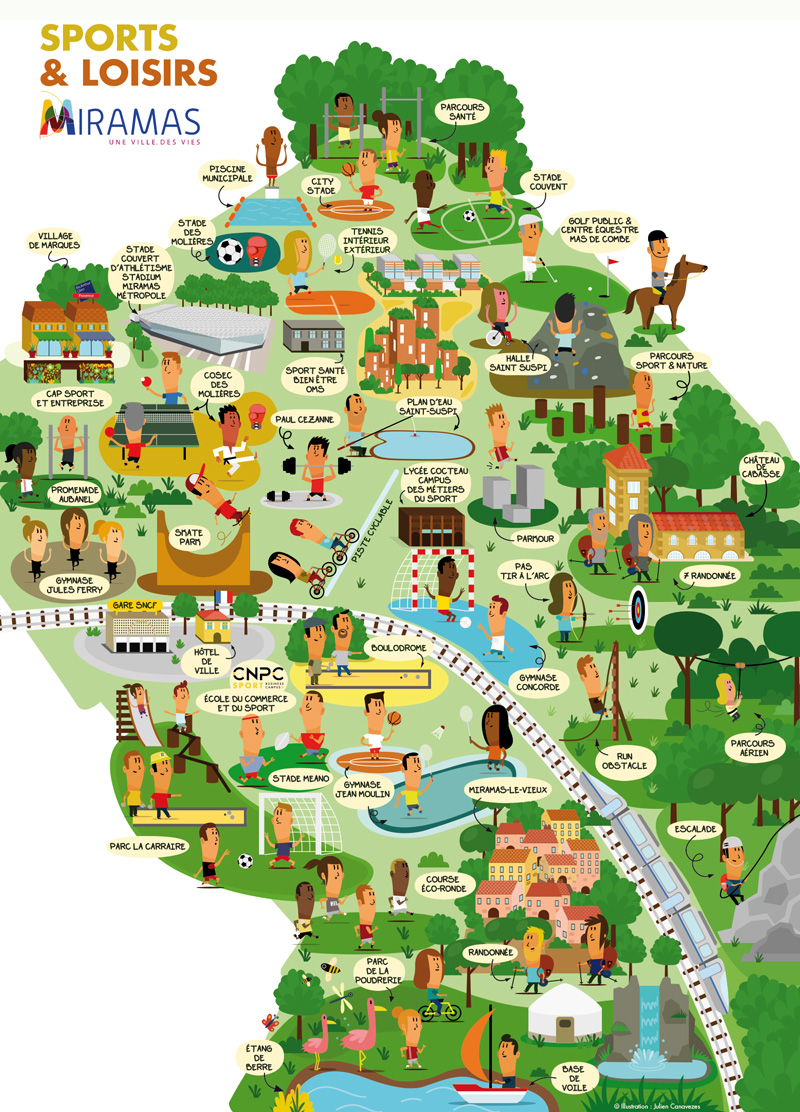 Miramas: a dynamic and sustainable city
We are all more than aware of the ever growing environmental issues facing us. It has become more important than ever to sort our waste properly, use water carefully, eat organic food and avoid wasting and overconsumption. Some cities have already recognised that. 
Miramas is one of them. They actually ordered two illustrations from me. The first one I did was on urban sustainability and renewable energy. The aim was to communicate to the people about environmental action plans. But not only that. Indeed Miramas goes one step further by offering to its citizens to get involved and join it in taking action. It provides its inhabitants with community gardens to grow organic fruit and vegetables. Miramas also chose to help preserve biodiversity by letting nature reclaim its space. As an example, the Cabasse pound and the Berre lagoon have a rich variety of flora and fauna.
The infrastructure also plays an important role. Many buildings in Miramas have green roofs or living walls which attract bees. And we all know bees are vital to a healthy environment. 
To conclude I'd say that Miramas is a sustainable and liveable city thanks to : its composting platforms, community gardens, green roofs and walls, construction industry waste treatment centres, a committed community, eco-neighborhoods and its nature park.
Just for the record, I already worked on the subject of the sustainable city for Veolia, if you're curious, feel free to take a look at my work.
Sports and leisure activities in Miramas
For the second illustration I had to do, I had to adapt this first map (the one on the sustainable city) to the sports and leisure theme. 
Indeed Miramas is sparing no expense for sports and leisure by offering its citizens great facilities that would make everyone happy. 
This includes : basketball, badminton, handall, a skatepark, football, rock-climbing, walking and running trails, swimming, golf, horse riding etc…
Integrating as many sports illustrations as possible in the right place on the map wasn't an easy job. I had a choice to make because I could not integrate more than four of five sports illustrations at the same place. However I think I succeeded at representing the majority of the sports and leisure activities offered by the city of Miramas. 
I really enjoyed doing these illustrations, firstly because I feel like I got to know more about ecology in general. I am being asked to work on this theme more and more and I find it very interesting. 
Secondly because it was a pleasure working with the project team, all very nice, enthusiastic people with a great sense of humour.
---
Client :
Ville de Miramas
Communication
Illustration