Accueil » Illustration » The mobile ecological eco-citizen house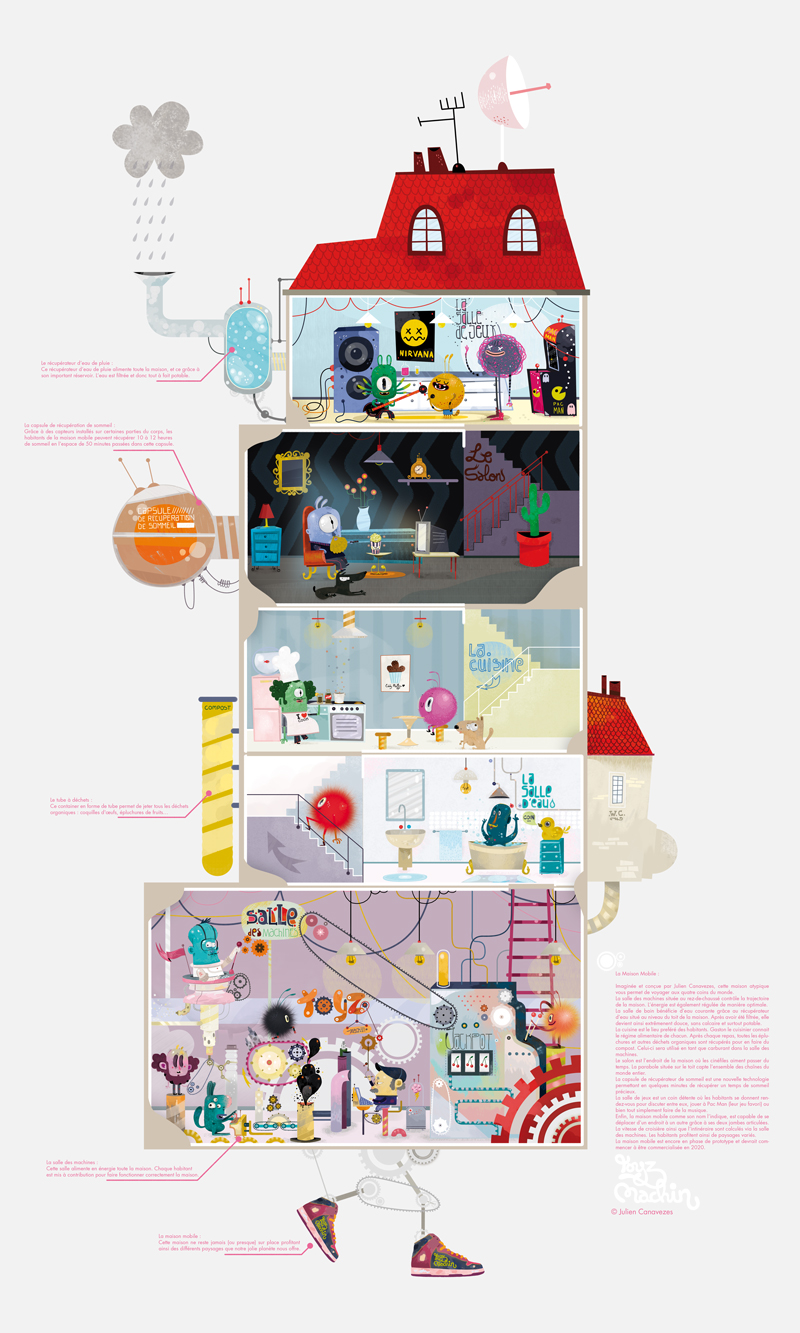 The eco citizen house
Illustration of a house and its unusual household and that has an exceptional feature in that it can move. I created this illustration for the biennial of the "créateurs d'images" that brought illustrators, architects, photographs and various agencies together. This ecological and eco citizen house is environmentally friendly thanks to its advanced technologies. I am often asked to do projects about the environment that are orientated to a general audience and to young people. I believe the young people from an early age need to be informed and engaged on these issues so that they learn how to recycle, not waste water etc.
I pictured a house that is totally autonomous and its distinctive feature is that it moves thanks to an electronic gearing system, controlled by some little genius monsters. In that house everything is recycled and then turned into energy. There's a composter, a water collector among other things. The little inhabitants share accommodation and each of them has its own duty : there's the cook who feeds the whole tribe, the engineer that looks after the house's operation and some younger monsters and animals…
Characters and sketches on the environmental theme
Being an illustrator means that I need to keep abreast of the public, environmental and overall societal topics. I like doing my own research on the innovations in ecology, politics, road safety, citizen life, new cultural events… This is how I am able to successfully create visuals on those themes that will suit your communication needs. The advantage of visual communication is that your audience and clients will be more receptive to a beautiful visual, mascot or sketch than to endless uninteresting text.
I invite you to get to know myself a bit better and trust me with your communication project by emailing or calling me.
---
Editions :
Personal project