Accueil » Mascot » Vector mascot for children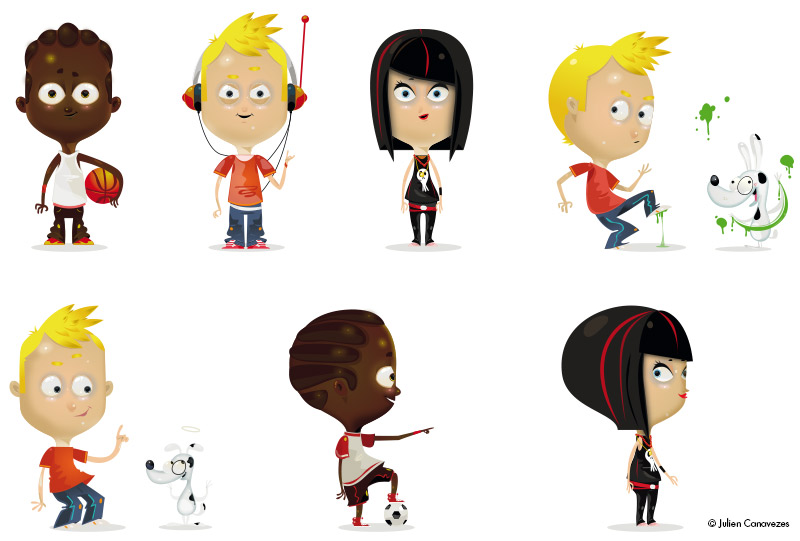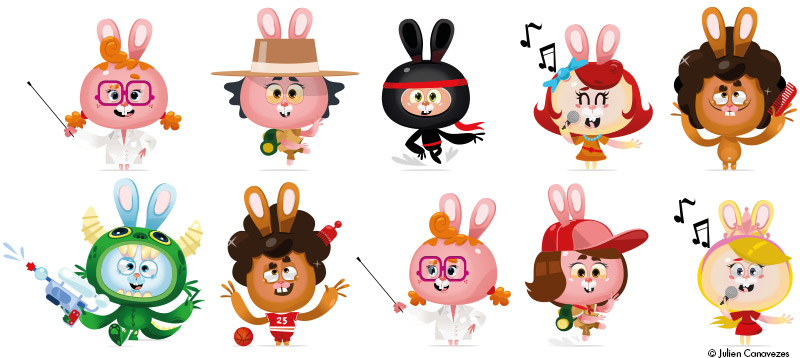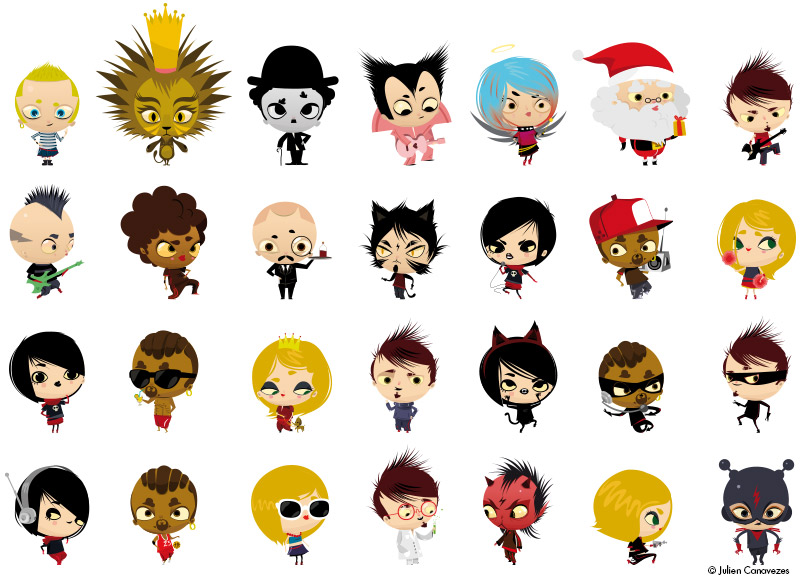 Young characters and mascots using 2D vector graphics
This is a set of young characters I designed using Adobe Illustrator. They are 2D characters resembling 3D objects to which I added some depth and volume. There are several variations : a rocker girl, a basketball player, a blond kid listening to music and a football player. I like to call them my "little tribe of fearless kids". 
This kind of vector mascot is perfectly suited for kids or teenage media content. I'd like to emphasize the importance of varying and picturing your characters in multiple evolutions however it does require experience in illustration and some mastery of Adobe Illustrator. 
Messaging directed towards children
To achieve effective communication destined towards youth you need to imagine the world from a child's perspective. You need to take an interest in what they enjoy. How they see the world. You need to constantly adapt your illustrations to the kids of any age (whether they're small children or teenagers) and keep in mind that kids' trends change all the time so this is important to do your research and keep-up-to-date with the latest concepts. Ultimately you need to be passionate about your work.
The second set of characters represents 6 different mascots and their variations, they're all rabbit characters so one can imagine they're from the same family.  There is the basketball player, the nerd, the pop star singer, the fearless explorer, the lunatic and the ninja.
I like using Vector mascots since it is easier to create variations from them and they are easier to animate. 
Lastly for the last set I designed a series of kids characters under many varied forms, in varied situations, there is the doctor, the secret agent, the rapper carrying his ghetto blaster, the pretty princess and her tiny dog, the fashionista, the rocker. 
Vector mascot creation process
The last set of kids characters was created using the following steps. I started exploring different options and sketching on Photoshop using my Wacom Cintiq 22 HD tablet. Once I was happy with the results I switched to the colouring and texture adding. The aim was to get a 2D drawing with an extra 3D dimension to it so I played with light, shadows and gradients. 
If you are looking for an independant mascot/character designer please feel free to take a look at my portfolio to get a hint of what my creative style is. Childrens illustration design takes experience and insight and I believe only a professional illustration will be able to bring your vision to life, therefore it is important to choose one carefully.
---
Client :
Personal work
children's illustrations
Mascot