Accueil » Illustration » Back pain positions, sport, core strength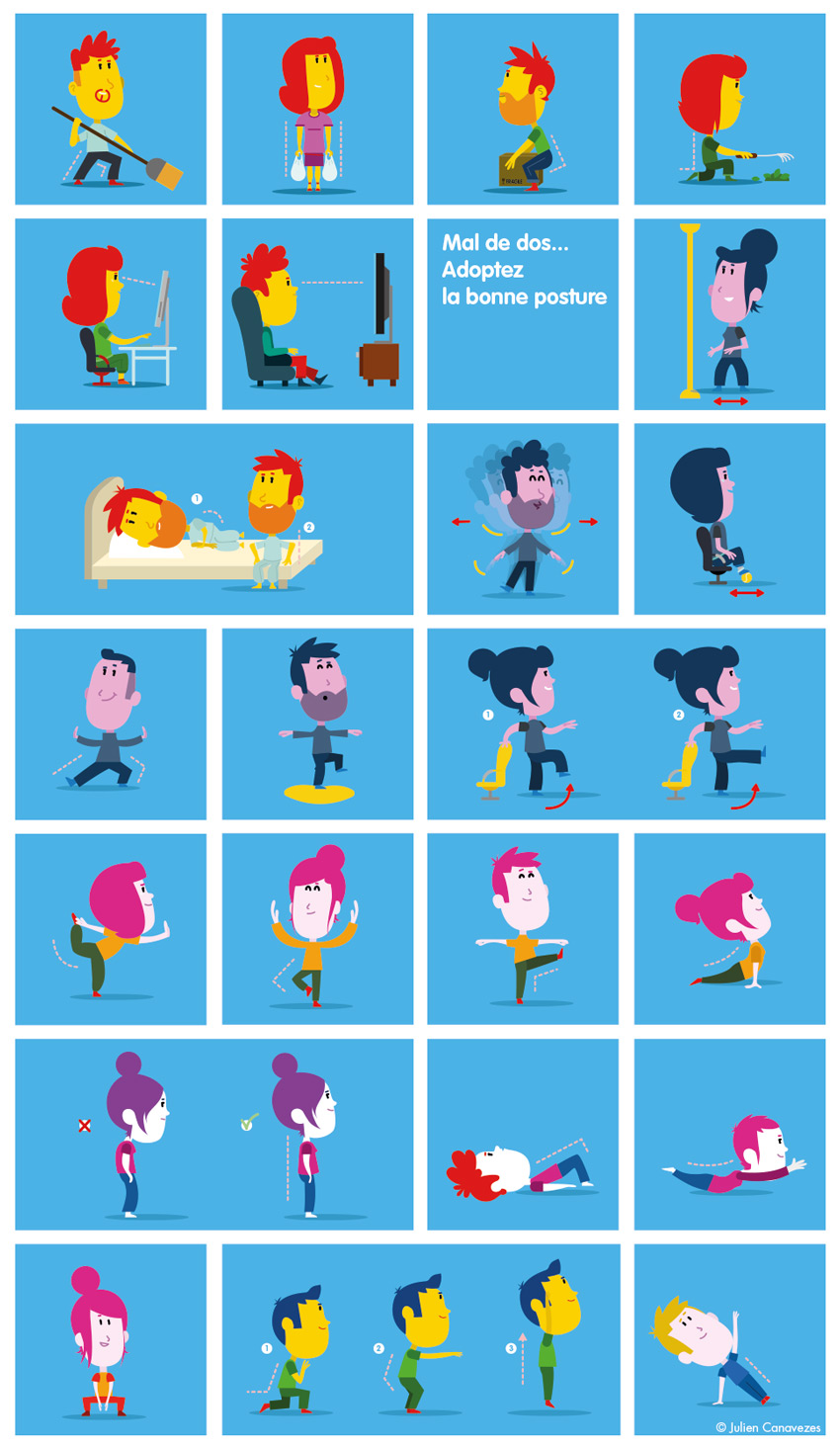 Back pain: the "health issue of the century"
Back pain for many is very widespread. It only takes one wrong move and you'll end up with a severe pain or a crick in your neck !  Yeah, you got it : It hurts, you're in pain and it is extremely unpleasant ! 
You can avoid back pain or prevent it thanks to simple solutions within everyone's reach. One would be unwise not to put them into practice. This can help spare us some unnecessary suffering.
For this reason the organisation 'Particulier Santé' asked me to illustrate different postures for when you're at work, at home and also a few core strength exercises. 
Core strength helps strengthen deep abdominal and back muscles. It allows for better balance and can be practised at any age. 
But we're not in an anatomy class and I'm an illustrator, not a sports coach ! 
I illustrated different postures:
– Postures when you are in front of your TV or computer screen.
– Lifting a cardboard box the right way. Bend your knees, get your back straight and lift the box slowly and carefully.
– Getting out of bed correctly step by step.
– Exercise in sports and body shaping
Also find educational medical illustrations
Exercises for daily life
But for most of us the issue is that we've become more and more sedentary. We're sitting all day long and we do not take the time to actually listen to our bodies. 
Hopefully thanks to these illustrations and a little motivation you can avoid back pain and other muscle pain. 
I'd also advise you to have a healthy diet and exercise for more than 30 minutes a day. That should do the trick !
---
Client :
Le particulier santé magazine.
Communication
Edition
Illustration
Mascot
Press