Home » Illustration » Characters in various poses
Here are different character poses and side-profiles. Black line drawing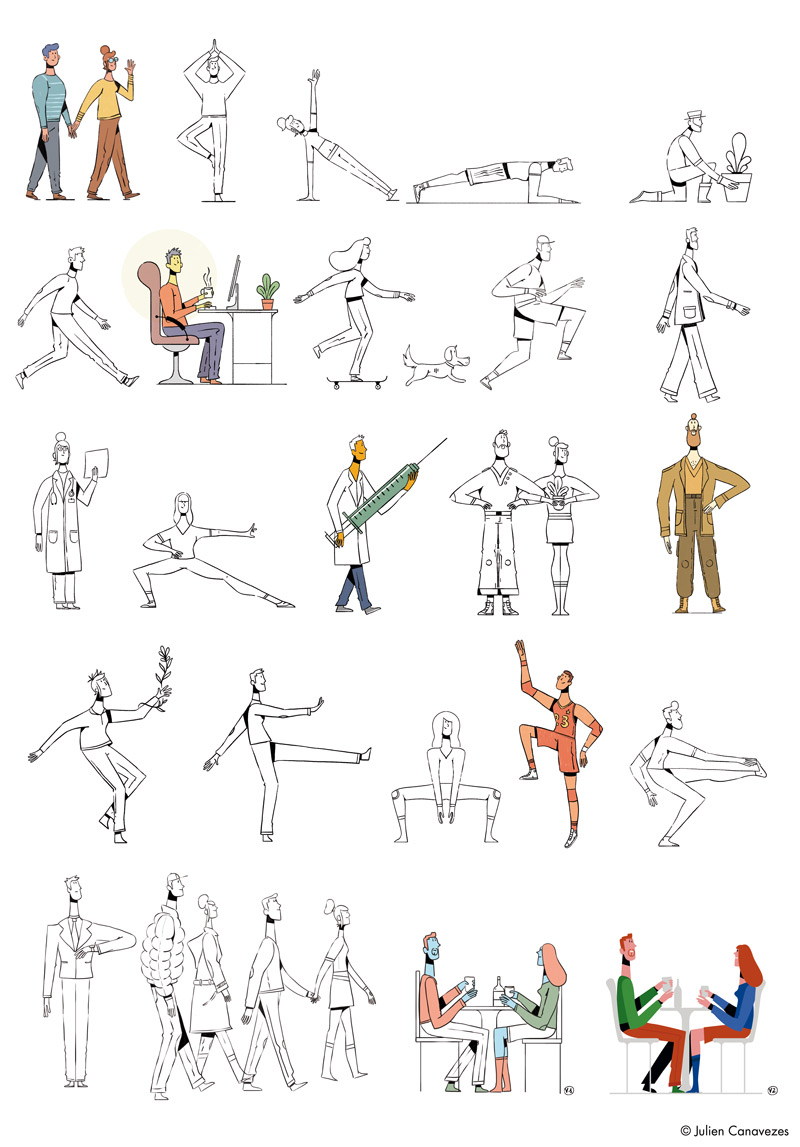 Human characters in different situations, carrying out different jobs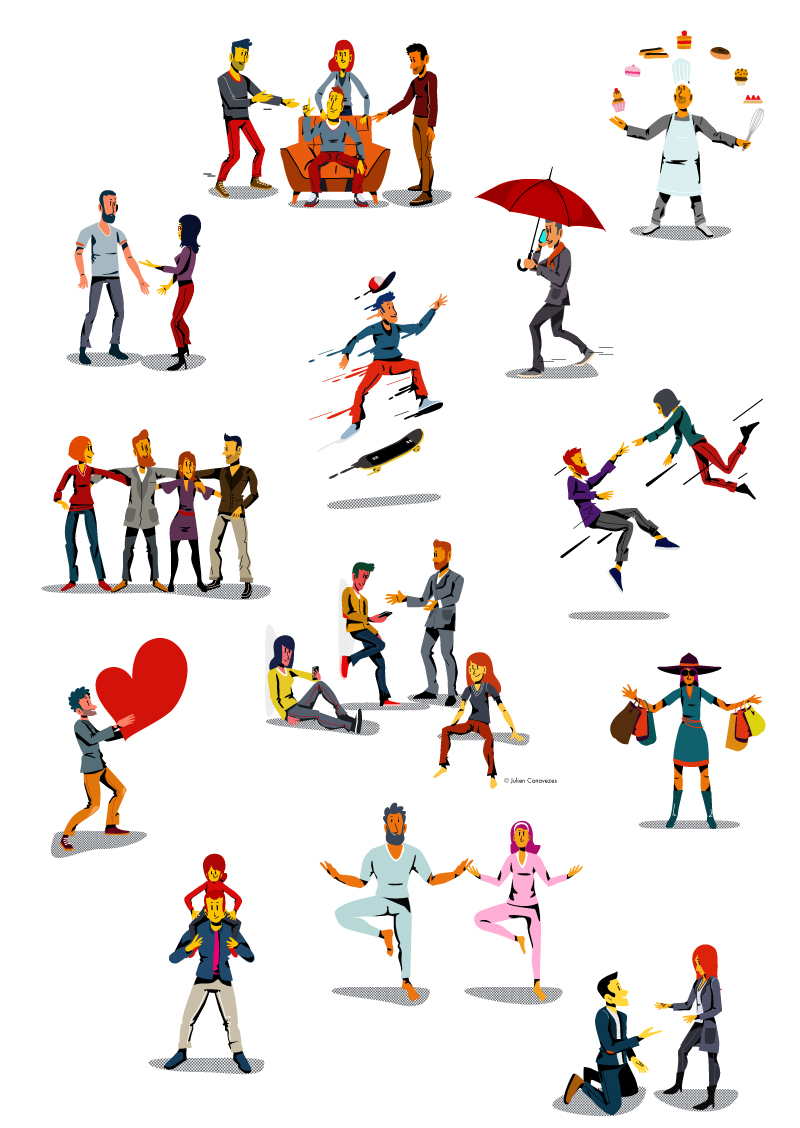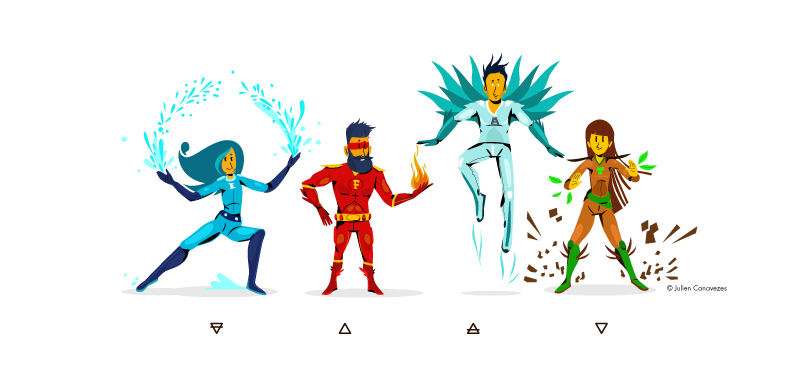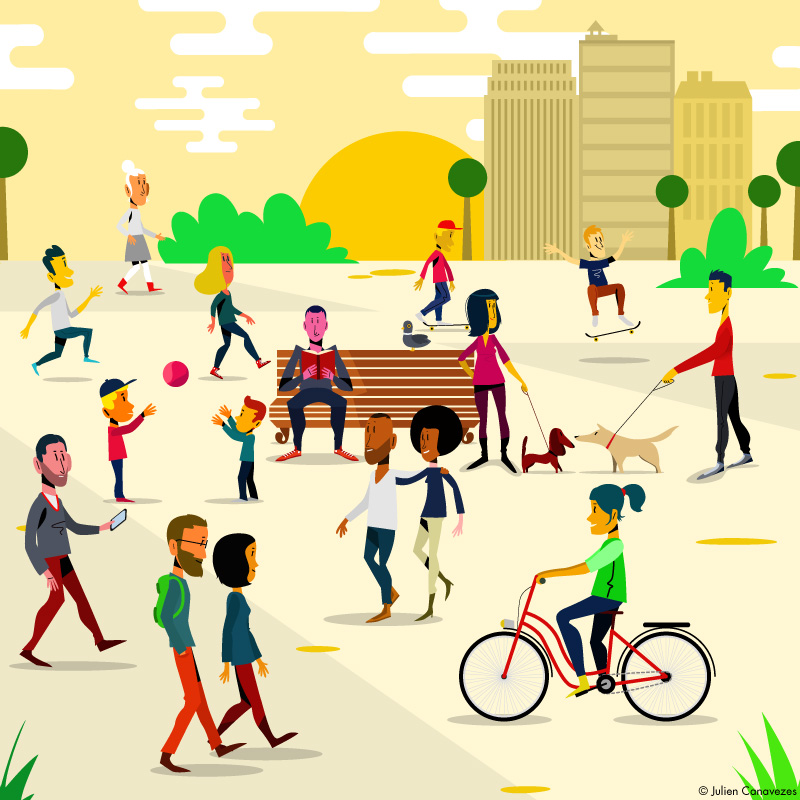 Flat design characters in vector graphics
In this flat character vector set I wanted to place human characters in different situations and set a fun yet corporate tone to my designs that would appeal to companies and advertising and communication agencies. Those characters help target a very large audience, no matter the age or social category. Thanks to that technique I was able to design characters carrying out their jobs: A pastry chef baking a yummy looking strawberry cake, a senior executive on training, a scientist conducting an experiment, a dog-sitter taking a dog out and even some superhero mascots. You can have endless design possibilities once you've defined what message you want to convey.
Composition
Sometimes a mascot isn't enough to communicate effectively. The composition is equally important, the world your character inhabits. You want to see your character or mascot in a specific situation or setting. It is recommended you use an unobtrusive background to draw the focus onto your subject. 
Human characters from vector graphics created in Adobe Illustrator. 
I am often called upon to create human characters for the use of publicity campaigns mainly. For this design I created characters in different situations : Some of them are playing ball games, cycling, walking, sitting etc. I chose an unobtrusive and simple background so that the viewer's attention is drawn to the characters.  I thought about adding some texture and depth to the design but in the end I liked the flat finish better so I stuck with it. So why choose flat design ? First because it is easier to apply onto any medium (posters, flyers, web, social networks). Secondly it is easier to animate using Adobe After Effects. Finally, thanks to vector imaging you get to enlarge or reduce in size any design without losing quality. 
---
Client :
Personnel
Communication
Illustration