Accueil » Illustration » Creations for a board game – SuperQuiz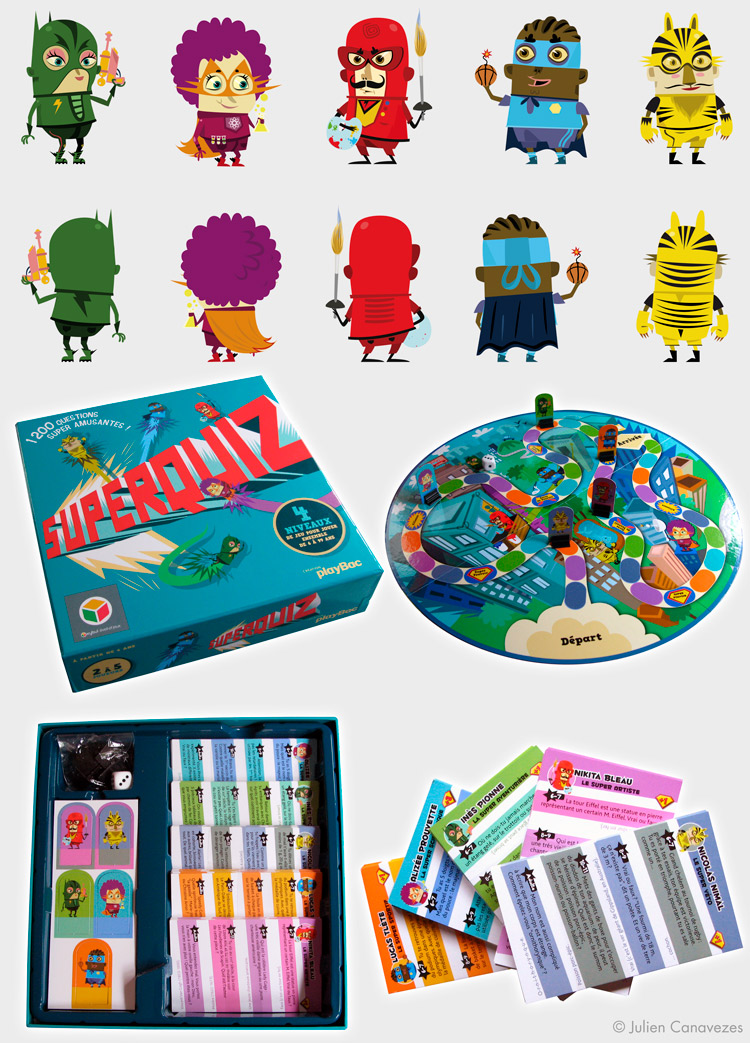 Board game illustrations
As an illustrator I have gained much experience in the area of childrens illustrations. This is why the Playbac publishing house, with whom I had created "Les Incollables", offered to collaborate with me on a board game creation project. The superheroes theme appealed to me straight away.
For this purpose I created 4 superhero characters, each of them having their own unique personality. There is the painter, the animal, the athlete, the scientist and the secret agent. I find that a great variety of characters makes it easier for anyone to relate to them. Second step was to create the "SuperQuiz" typography that features on the game's packaging. Creating good packaging requires some experience, precision is important, picking the right colors, creating a pattern and having an impeccable printing example to avoid any disaster. 
Also find the creation of a quiz board game with the illustration of animal characters.
What I really enjoyed about that project was that I got to work on every aspect of the "SuperQuiz" : The character design, the game board and cards and the packaging. This was a good drill for me. 
I am a well established illustrator with experience in children's illustration, please get in touch if you have an editorial project destined for kids or teenagers.
---
Client :
Oxybul / Play Bac.
children's illustrations
Edition
Illustration