Accueil » Illustration » Physical chemistry illustration of the Pessac Bordeaux campus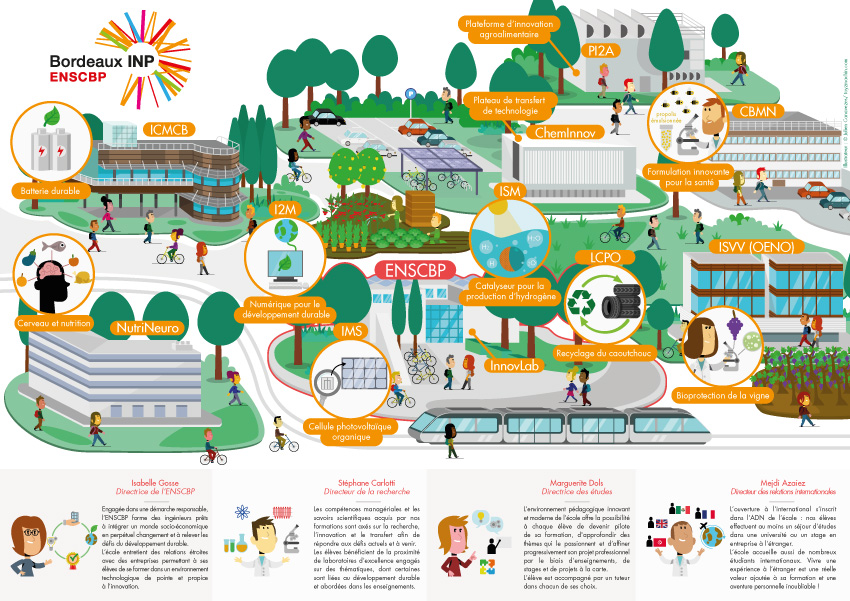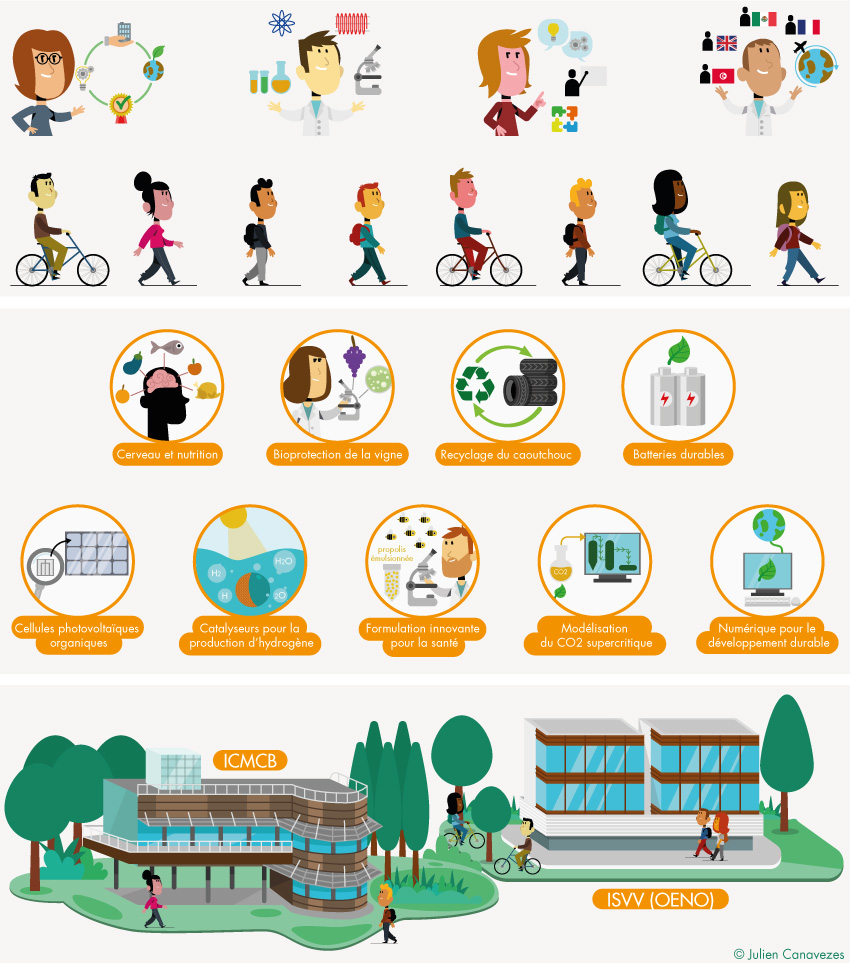 What is the ENSCBP?
The National Superior School of Chemistry, Biology and Physics is a public engineering school. It belongs to the Bordeaux INP establishment and offers 5 training courses in the fields of food processing, chemistry-physics and materials. The objective of the ENSCBP is to train responsible engineers and creators of values ​​in a changing world. It offers solid scientific and managerial training, open to the international scene and focused on research and innovation.
Brief illustration of the campus map
"The illustrated ENSCBP" is an explanatory, modern and dynamic medium that makes it possible to visually represent the values ​​and objectives of the school in connection with its local infrastructures (laboratories, industries, Bordeaux INP). The common thread is the representation of the key research and industrial axes of society with which the students are confronted and prepared for school. The engineering students are immersed in a rich scientific, professional and student life environment. Thanks to all these elements, they become balanced engineers, responsible and adapted to environmental, social and economic issues. The main objective of this illustration is to arouse the interest of future pupils for this school by evoking examples of themes which allow them to visualize towards which professional sectors they can orient themselves thanks to the ENSCBP. In short, it is about representing the rich environment of the school with its industrial partners, its laboratories and its technical facilities. Each of these illustrations is accompanied by a short text presenting the objective (or the role) of the infrastructure which refers to the values ​​of the school: educational innovation, open-mindedness, training engineers capable of meeting challenges. current and sustainable development. These texts are presented in the form of explanatory bubbles carried by key figures from the school.
See other maps illustrations.
Why this idea?
The school offers general training in agro-food and chemistry. A positive point to highlight her open-mindedness and decompartmentalize the lessons she offers. But this can be detrimental when it is necessary to specify its areas of expertise and guide its future students to choose the school according to specific themes that make sense to them. However, the ENSCBP is an expert in themes that make it possible to respond to the major challenges of society: energy transition, green chemistry, factory of the future, new sources of carbon, nutritional and health quality of food, feeding 10 billion inhabitants, etc. These lessons are also studied and built in close collaboration with the themes and projects developed within companies and laboratories in order to train field engineers capable of meeting the challenges of society, which refer in particular to innovation and sustainable development. It is precisely this point that must be valued, illustrating our infrastructure and key school resources to achieve this.
---
Client :
ENSCBP Pessac