From sketch to fully colored illustration.
For almost any new project my clients ask me about my working method. Naturally they wonder what would happen if they're not happy with the result for example, or if I will provide them with an initial sketch before they sign any contract with me. Any illustrator will know what I'm talking about.
The first thing I need to address is: there is very little chance you will be disappointed with the result. Why ? Because I will make sure the brief is precise as it is the basis of our work (for both the illustrator and his client). Therefore before you start looking for an artist, preparing your briefing is a must. You should take the time to do some thinking and write down your instructions and even look for reference pictures if needed. Using pictures or a mood board will help guide the artist in the first and most important direction : the atmosphere, graphic style, what are themain elements etc…
A free sketch ?
" Can you make sketches before we sign any contract ? because I am not sure about what you will do, just to give me an idea…"
Creating a sketch takes time, sometimes it is even what takes the most time. You need to find the right angle, the right direction, search for ideas, and only then you can start sketching it. Without this base it is impossible for the client to project himself and therefore you just can't process with the colouring. This is why, as I said above, the more accurate your brief will be, the more you'll be happy with the final result. The choice of the illustrator's book is equally as important. If you contact a creative it is because you like his work, because he inspires trust via his references, graphic style and because you have a good feeling with him. So as I am sure you have understood…a sketch requires time and time is….
Working method in 6 steps
Personally, and to avoid any disappointment here is the way I like to work:

• Reading of the brief and back-and-forth thinking. I take the time to really understand what my client needs, which is essential.
• Thinking, idea searching and sketching. Indeed I do not rush head first on to my blank page,the thinking is a huge part of my job, I only start drawing once I have made my mind straight. I sometimes submit ideas to my client before starting drawing and I notice that back and forth dialogue can give birth to even greater concepts than my original idea.

• Once my sketch is finished I submit it to my client who gives me feedback and sometimes some additional instructions. Gradually the project gets more defined. The client is an integral part of the process, this is why I think there can't be any surprise.
• Once the sketch is approved I can either present the finished and colored illustration or present it at each step of the colouring process.
In both cases there are back and forth dialogues with my client as sometimes they don't like the colors or they need some elements to be suppressed or some to be added…
Once all of the corrections are finished, the client can approve the illustration.
• The final step is the file delivery

• The final step is the file delivery

The city of Miramas project: a concrete example
The communication team had sent me a brief on a Word document, with a map and some important elements that had to feature in my illustration.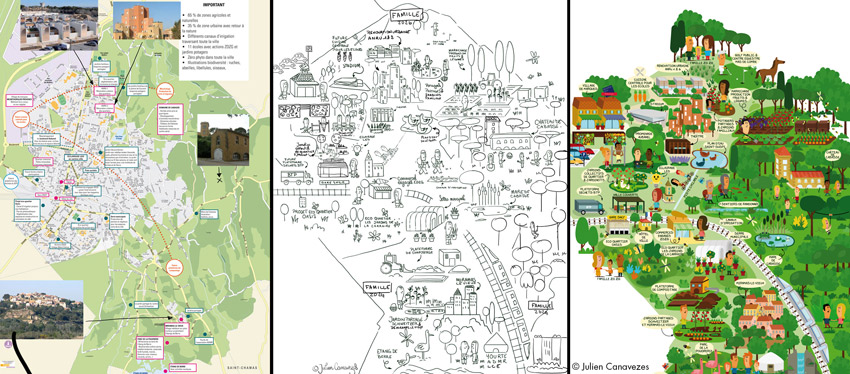 Following this and after a long conversation with my client I sent him a sketch which was modified several times.
After approval I created the illustration. The colouring was done at one go so that I could get my client's feedback.
To see the Mirama sustainable and green city click on the hyperlink.
Here is another example of a illustration featuring little monsters I did for a personal project:

If you have any questions feel free to contact me or to leave a comment down below 😉