Applying for internships in graphic design or illustration

This article is intended for the students looking for internships. Many of you look forward to becoming trainees in the area of visual communication, whether it is in graphic design or artistic direction. 
I receive quite a lot of internship requests, around 2 to 3 per week and I sometimes feel concerned about what I receive/read.
The first thing you need to know is that I don't hire trainees, as I work from home and also because the projects I work on are always very specific. I fear you won't do anything except watch me draw and I'd rather avoid asking you to make me coffee or do photocopies.
But let us come back to the topic which is internships in the art and creative field. When you think about creation you think about originality, you need to stand out, create your own style. You've got to put it out there. I insist on this aspect because I do feel like for most of the applications I receive, very few of them actually stand out. I am going to try here to give you some clues that can help you make a difference. There is no miracle solution of course but it can help.
Some tips for when applying for an internship in the visual communication field
First thing first, you have to INTRODUCE YOURSELF ! This is the bare minimum of politeness. Sometimes I receive emails and can't even tell who it is coming from. 

Writing a motivation letter is great, but please don't use Word ! Use your creativity to find an original support for your letter, it can be a PDF with a fun layout…anything but a word doc !

The most important thing that must feature in your internship request is your ILLUSTRATION BOOK. Trust me, there is no need to approach an agency if you don't have any. An illustration book is

your identity

as an artist, this is what can make you stand out. You simply cannot break into the communications world without it.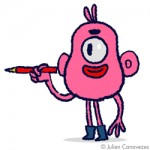 So what do we need to see in your portfolio ? Nude drawings are absolutely useless ! I mean honestly, why would you display nude drawings ? Please don't. What we need to see are actual projects. If you approach an advertising agency, don't hesitate to create your own advertising and feature it in your portfolio. You need to show some work that can be related to the professional world. 
The same applies to your portfolio's presentation as you can use a simple pdf portfolio but you could also create a video presentation or an animated one…Whatever medium you choose, it needs to convey clear information and highlight your work so that we can see how creative you are.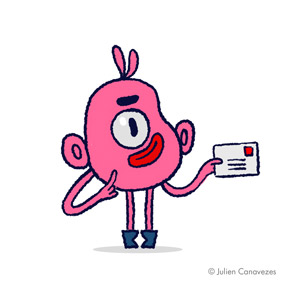 The last thing I wanted to address is the sending of the internship application. Nowadays sending an email is pretty easy (too easy actually) and inboxes are often overflown. Why not send a good old handwritten letter by post? Or even by fax machine? This can be worth exploring… (If I ever receive an application by a carrier pigeon I'd actually be thrilled!)
To sum up this article:
Introduce yourself : who you are, where you studied

No Word format letters

You need a professional book 

Make your own style and stand out 
I wish you good luck and do not hesitate to contact me if you have any questions, you can send me an email or reply in the comment section.