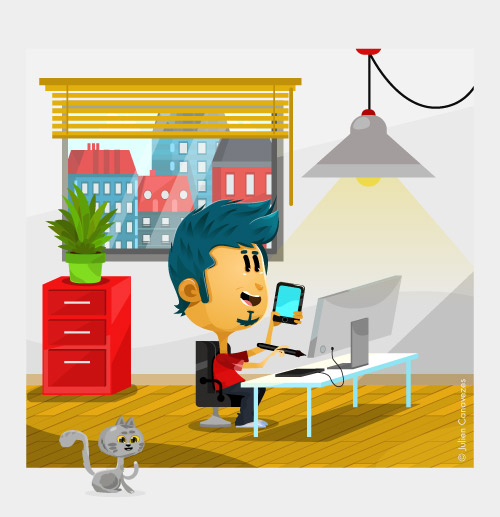 The visual communication field
Following some questions I received from clients and students I wanted to clarify the following points:
What does a graphic designer do ? What about an illustrator and an art director ? What are the differences between them ? In what way do they complement each other ? Can a graphic designer also be an illustrator, a web designer or a flash animator ?
First and foremost you should note that the above jobs are indeed complementary. My personal experience is that I received training in graphic design and art direction and then I deliberately chose to develop my skills as an illustrator simply because I liked to draw. It was more than just a job for me: a real passion. I have then added strings to my bow, which helps me identify my clients needs more effectively.
Illustrator :
There are several types of illustrator :
The illustrator who works on youth content works mainly for the press and editorial content and aims to draw stories, games…for a youth market.

The illustrator in advertising will create artwork that will be adapted to posters, TV spots etc.

The illustrator in communication will create instructive artworks which aims to inform. I personally spend most of my time creating mascots and sketches to help make the reading of certain documents easier and to make them more appealing, playful and easily digestible.

The 3D illustrator creates illustrations in volume such as 3D mascots, landscapes, packaging…

The comic illustrator (comic books)

The rough sketch artist makes sketches and hand drawings for storyboards, posters…
Each illustrator has his own particular skills. Some are specialised in a specific area while others can carry out all of the above tasks.

The graphic designer:
Is the job that combines the most skills and that converges with visual communication's jobs (such as art director, illustrator etc.). It may also be referred to as illustrative graphic designer (who is able to combine graphic design and illustration).
A graphic designer must know how to build a company's visual identity and therefore logos, graphical charts, page headers. He can be brought to work on a magazine's layout, posters, flyers or graphic models. A graphic designer must be able to deliver a ready-to-print file.

The infographic designer
:
The infographic designer is gradually being replaced by the "graphic designer" title. His job is to create a layout of data, percentages, diagrams and pictograms. The dataviz infographic aims to make data more readable and understandable.

Web designer:

Today we even talk about " UX designer" (user experience) and UI designer (user interface). To put it simply they work on the interface, the website's usability and the user experience (which looks at the way that users access and react to objects/pages when using the website). The web designer usually works with a developper to make a website functional. The developper's work is to make the site responsive, safe, dynamic and adapted to different screen sizes (mobile, tablet and computer…)
As for the art director, he mainly focuses on the concept, the idea that will help improve sales. His mission is purely strategic. He will primarily work on the visuals so that they are playful, appealing, glamorous… and will pick the best medium that will help make the product memorable (POS, poster, flash mob etc).

The art director:

Of course there are other jobs I did not mention so I invite you to leave a comment and introduce what you do.
Conclusion :
If you ever need graphic creation for your messaging, advertising or website, on any type of medium, do not hesitate to contact me.